Get the ultimate health, weight loss, skin and immunity boost with The Ultimate Trio! 
Pack includes: 
1 x 50ml Alien Tears
1 x 50ml Black Seed Oil
1 x 50ml Zetox 
(100ml pack comes with 1 free pair of detox foot patches valued at $10)
The ultimate combination for detoxification and restoring your health!
Regular price
$195.00 AUD
Regular price
$223.00 AUD
Sale price
$195.00 AUD
Unit price
per
Sale
Sold out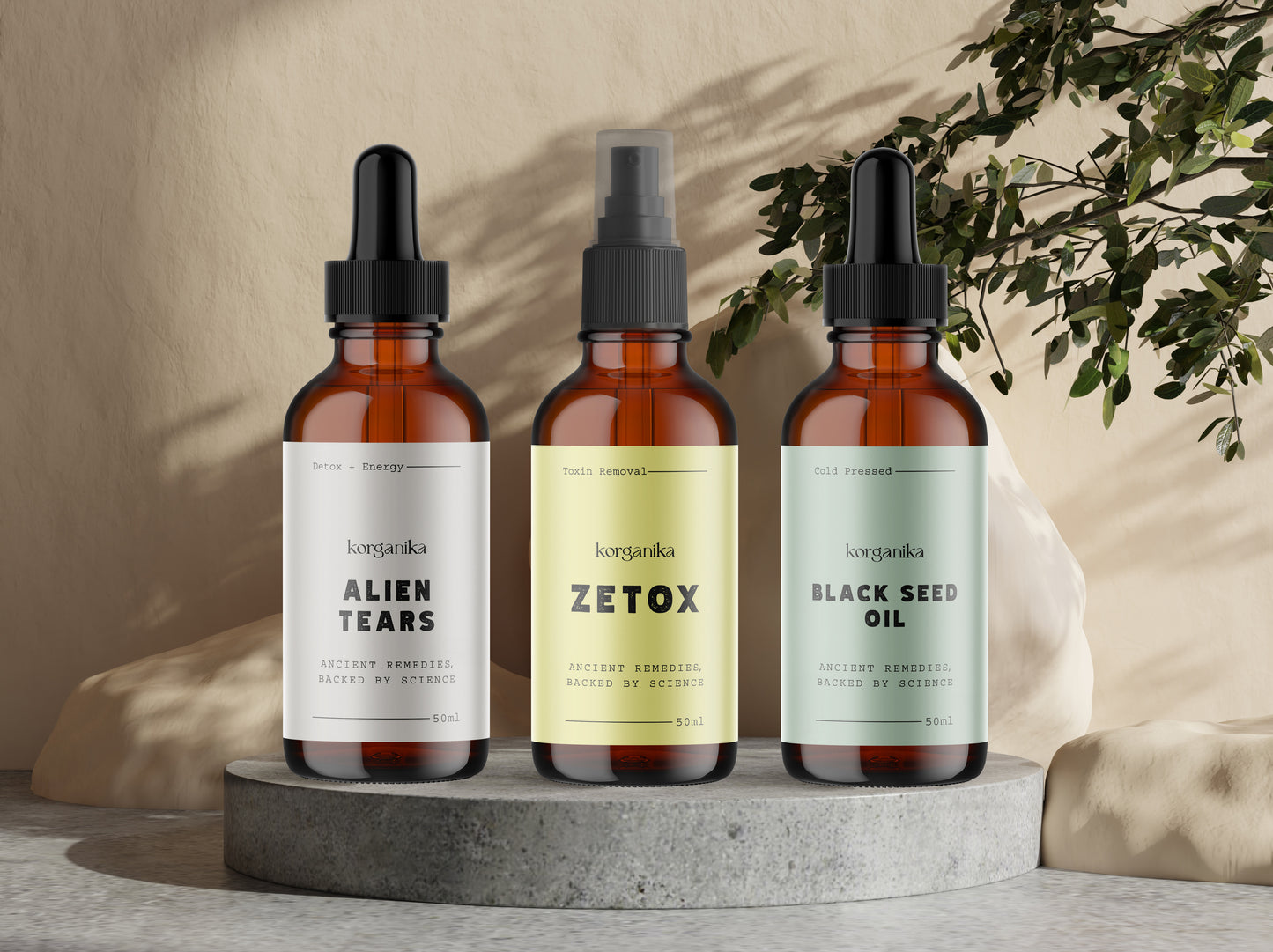 Love these products
In such little time I feel revived already from using these products! The alien tears is the perfect pick me up and I am feeling fatigued or sluggish, it's a cool colour too and gets lots of attention while I am sipping on it. Thanks so much Korganika
Ultimate trio pack
I brought this pack going on a month and a bit ago now, these products have helped me get through the day, and has helped me with my anxiety, I suffer from a lot of fatigue due to me studying and being on placement and being a mum and juggling work. My whole body has changed so much that I love being able to have a lot of energy through out my day workout feeling extremely exhausted. Thank you so much for creating such amazing plant based products with no nasty chemicals , I can't wait to trial zetox on my three year old who has a bit of ADHD and to help with his speech. Thank you I will definitely continue taking these products in my daily routine.
Terrific Trio
Love taking these 3 gems daily… really feel like they are being absorbed instantly… So beautiful and smooth 🤎
Love Korganika
This is my second round of using Korganika and I am so impressed with the results.
I have passed parasites, feel more energy and I am obsessed with black seed oil. I can't help but tell all my family and friends about the products so they can see the same health results to. Best products
Love the products, they are absolutely amazing!
I brought the zetox, black seed oil, alien tears and feet detox patches and I have so much energy I've completely cut out coffee (I'd normally have up to 3 cups of coffee a day) and I've never slept this good since probably being a teenager! I feel so chilled and my hormonal acne on my neck and jaw have really cleared up.