Black seed oil (Nigella Sativa) has been and still is regarded as one of the most powerful anti-inflammatory and anti-viral herbs to ever exist. 
This oil has been used since our ancestors to treat many ailments and to nourish the skin and hair. Studies have shown that it is a great treatment for chronic, viral and autoimmune disease! It is good for all ages. It works within minute to treat anxiety attacks and is also proven to help with depression. 
It is also amazing for fast results in treating skin disorders, and even vaginal infections. This can be used anywhere on the body but the eyes. 
Quite extraordinarily, it decalcifies the pineal gland, giving you mental clarity, opening up your third eye, helps with good quality sleep and better memory capacity. In turn, it helps with anxiety and depression. 
We do not mix our oil with any other oil, as to maintain its potency. Because of this you will usually only need 1ml at a time, unless being used for weight loss purposes, then you can use 2-3ml at a time. 
You will find that you do not need to use Korganika black seed oil for more than 8 weeks, depending on your case. 
If you have an ailment or skin disorder that you would like advice on dosages for, please do not hesitate to contact us!
We are here to help you heal!
How to take
For the first 5 days, start off by just putting 2 drops under each foot at night time. As we have chosen not to add any other oils to our black seed oil, it is very potent so it will absorb into your body this way. Once your body has become used to it, you may ingest it after the 5th day (2-3 drops).
You may notice it will put you in a deep sleep while it does its job (ridding your body of toxins and disease). You may sweat or even feel a detox headache for a day or two. In some cases, you may get diarrhoea if you have a toxin buildup in your colon. It's all a good sign!
For children, do the slow introduction with feet first before ingesting. It works wonders on kids too!
If you are using for weight loss purposes, feel free to increase your dosage to 3-4 drops after 2 weeks.
Black seed oil should only be needed up to 12 weeks depending on individual case. If you are pregnant, nursing, taking any medications or have any medical condition, consult your healthcare specialist before using this or any other nutritional supplement. If any adverse reaction occurs, immediately stop using this product and consult your doctor. If seal or cap is damaged or missing, do not use. Keep out of reach of children. Store unopened bottle in a dark place. Keep away from heat or light.
Ingredients
Pure high quality cold pressed nigella sativa.
Regular price
Sale price
$44.00 AUD
Unit price
per
Sale
Sold out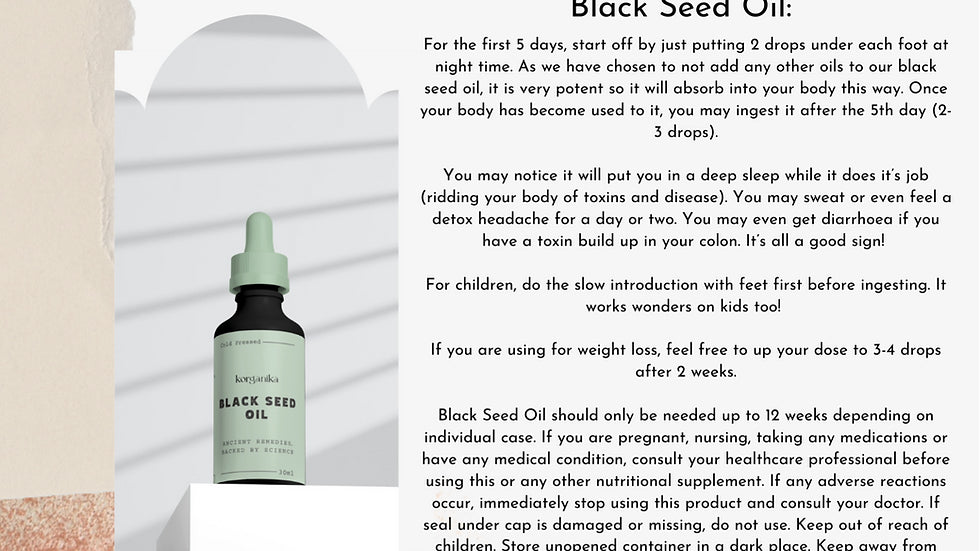 Black seed oil
I've started using it on my acne and find it helps clear my skin quickly, leaves my skin feeling soft.
I've also been taking it orally.
For the whole family
Honestly where do I start ?
I bought this initially for my kids & I to help support our sleep… that it did!! I was so impressed the first night it took my daughter 10mins to fall asleep normally would take an hour. Has helped support my kids with their ezcema and rashes !! My 4 old had a croup cough I gave her a teaspoon morning and night this has help support my daughter. Cough has eased 🙌🏽 highly reccomend to add this into your homeopathic first aid / immune support kit 🙏🏽
black seed oil
great product! i use it daily on my face as a moisturiser and ingest it most mornings too!
Amazing all rounder
I've been using Korganika Black Seed Oil daily and topically on my face each evening. It's such a beautiful quality oil, definitely helps me sleep and keeps my skin well balanced and clear.
Highly recommend this liquid gold.
Actually the cute to everything!
I use almost all korganika products but this one I can't ever be without. It has helped me with burns, rashes on my skin, throat infections, gut issues, sleep and lastly vaginal health. Black seed oil has helped to keep my pH levels healthy unlike a lot of store bought items I was recommended by my doctor.